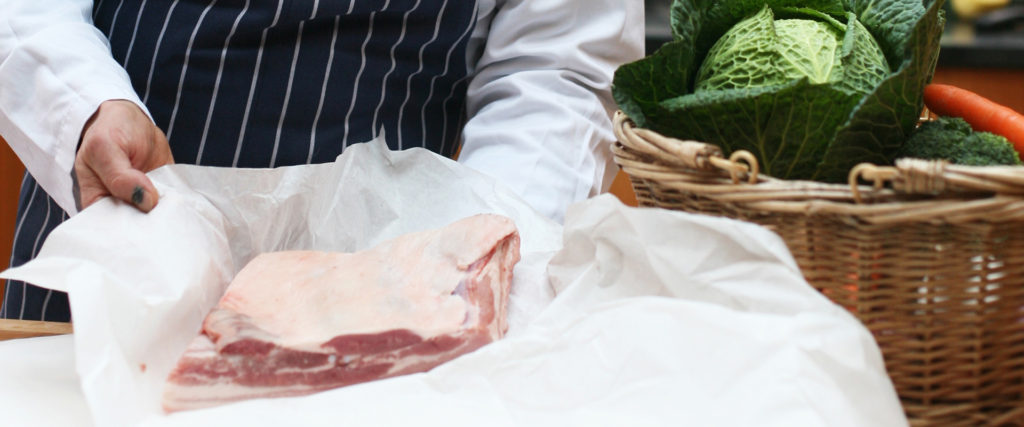 We have decided to step back 50 years and start using paper wrapping to wrap our meat.
It is well known the damage that plastic is doing to the environment and at Sway butchers we actively look at ways to reduce our usage. We have replaced our plastic carrier bags with ones made from vegetable starch. In addition our plastic wrappings have been swapped for environmentally friendly, recyclable and biodegradable paper. Our customers are only too pleased to go 'back in time' for us to wrap their fresh meat in paper. 
David West remembers helping his father in the early 1960s on Saturday mornings when he was 6 years old.
"It was my job to wrap the meat in the large sheets of white greaseproof paper for the customers. I now find it ironic that we have come full circle, but it can only be good news for the environment. We have also replaced plastic pots for our ready to cook products with containers made from vegetable matter that can be put on the compost heap."
In the late 1960s butchers changed over to more fashionable plastic film and bags from grease proof and white paper.
Customers are also welcome to bring in their own reusable containers to take home their products.
The response from our customers has been amazing with every one being incredibly supportive of this initiative.
"The idea of taking their purchases home wrapped in old fashioned paper rather than plastic really appeals to our customers."
Future environmental friendly plans for the business include solar panels and replacing the diesel van for an electric model.