Being established in Sway for 45 years, has enabled us to develop an excellent tried & tested supply chain to source our meat from Hampshire & Dorset, including many Local New Forest Small Holdings. These small non intensive farms specialise in grass fed Native Breeds & are run by families that care about animal welfare and the environment.
Customer Review 'Great meat, great service and IMHO, the best butcher in the New Forest.'
Native Breed Grass Fed Beef
Chase Royale Farm, Stubhampton, Dorset. Wessex Lowline Aberdeen Angus. Lowline cattle are 100% Angus genetics – derived from the traditional small Aberdeen Angus cattle of the early 1920s. They are grass fed on 90 acres of lush Dorset pasture, and naturally finished without the need for concentrates producing beef with excellent marbelling, tenderness with a rich depth of flavour. In addition to the Angus, the farm has a small herd of pure bred Hereford.
Home Farm, Kewlake Lane, Bramshaw. This family run New Forest Marque Farm rears a small number of Aberdeen Angus & Devon Ruby Red cattle in Bramshaw.  The animals are traditionally fed on the New Forest & their own pasture for the benefit of the animals. This provides high quality beef full of flavour, a good life for the cattle and in addition benefits the ecology of the Forest. An ecologically friendly meat source.
Simon Wright. A one man band, Simon has a small herd of Devon Ruby Red cattle grazed on the open Forest alongside beautiful pastures near Fritham, Fordingbridge. The Ruby Red breed is one of the oldest in the country, originating from South West England and they are a slower growing animal resulting in a high quality beef.
Photograph – Chase Royale's herd of Lowline cattle
Customer Review 'Great produce and service. Excellent BBQ selection.'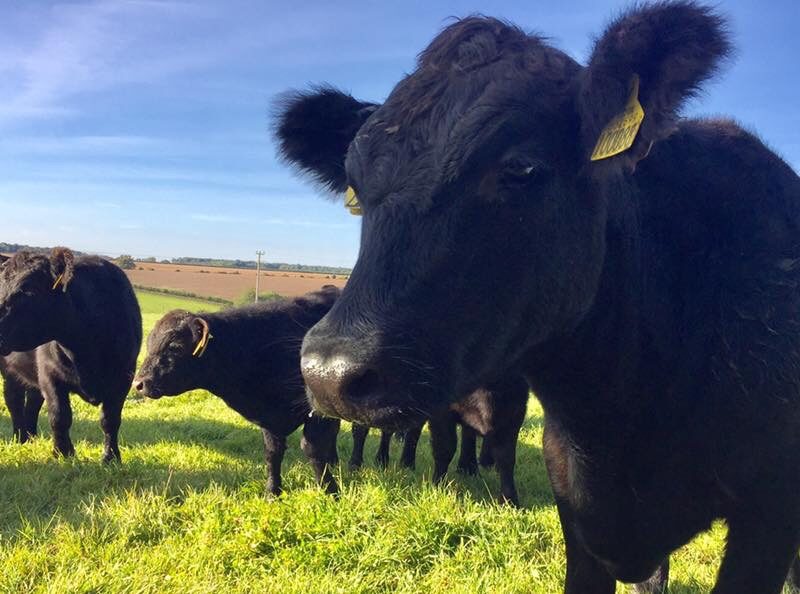 Native Breed Free Range Pork
Home Farm Bramshaw: Gloucester Old Spot X. This family run New Forest Marque Farm rears a small number of Free Range pigs in Bramshaw.  The animals are are free to roam their own pasture overlooking the Forest. These slower growing animals produce quality pork with great crackling.
Orchard Farm, Cheale Meats: Yorkshire Large Whites
Arnewood Manor Farm: Native Breed Pigs (Gloucester Old Spot cross) These are VERY local pigs roaming freely through Oak woodlands located less than a mile from our shop.
Pannage Pork (Acorn Fed)
Every autumn pigs are released in to the 220 square mile New Forest National Park, to eat the acorns that have fallen from the antient oak trees, this is Pannage season. It has been long established that the finest pork around the world comes from free range pigs fed on a diet of acorns (Iberico Jamon from Spain and Portugal). This year our Pannage pork comes from two locations Boldre and Bramshaw. – Home Farm Bramshaw: Gloucester Old Spot Cross & Dilton Farm Boldre: Black Spotted Pietrain x Large White Cross
Customer Review 'Wow, great meat and fantastic customer service.They sell gorgeous frozen meat pies. They also do wonderful meat and sauce dishes and very good prices. If the dish is not on display they will make up some for you. Can't beat that!'
Photograph (Header) Free Range Pigs on the open Forest during Pannage Season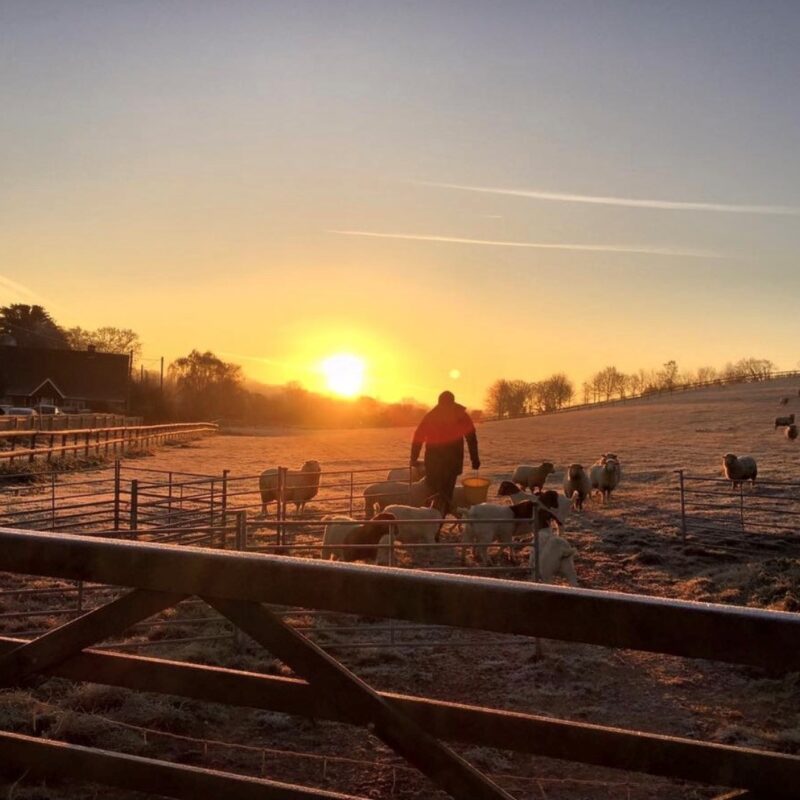 Native Breed Grass Fed Lamb
Efford Park Lymington Southdown Lamb This small flock has won many awards at shows across the country. The sheep happily graze on the sunny meadows overlooking the Solent. Southdown lamb is a small, dual-purpose English sheep, raised primarily for a source of meat. The Southdown breed was originally bred 200 years ago in Sussex. It was then exported to New Zealand and was used in the breeding of the Canterbury lamb.
Chase Royale Farm, Stubhampton Dorset. In addition to the pedigree beef, Chase Royal also run a small flock of Dorset & Hampshire sheep from which we source our lamb. The undulating Dorset pasture is ideal for sheep producing succulent lamb full of flavour.
Hollyhock Farm, Minstead. The Hollyhock flock of Gotland sheep produce delicious hoggett and mutton that are grazed on permanent species rich pasture. In the summer, it is buzzing with insects on the many wild flowers. Gotland Sheep are small, black faced, slow growing and originate from Sweden. They are usually slaughtered between 1 and 2 years old producing hogget. A joint of slow cooked hogget is so easy to cook and is always mouth wateringly good. New Forest Marque
Photograph – Chase Royale Farm's flock of sheep
Free Range Chickens
Noah's Ark Farm Ashley New Milton –  Their free range chicken go outside from approximately 4 weeks old (depending on the time of year and the weather conditions) where they have the freedom to roam on fresh grass fields. At night they return to their spacious houses which are freshly bedded with wood shavings.
Creedy Carver Free Range Chickens and Ducks Crediton Devon – Free Range selection of Poultry sourced from Crediton in Devon, guaranteeing a flavoursome meal. All their free range chicken & duck are reared to the highest welfare standards to produce a sustainable meat source. To help the environment 10% of the farm has now been converted to a nature reserve attracting many wild birds, butterflies and insects.
Free Range Eggs
Noah's Ark Farm New Milton – New Forest Marque family run farm on the edge of Ashley near New Milton where the chickens are free to roam the 35 acres. (breed – Lohmann Browns a cross between Rhode Island and White Rock that produce lovely brown eggs with a rich-coloured yolk)
Free Range Turkeys
Paul Tanner, Great Oaks Farm, Boldre. Great Oaks Farm nestles in the heart of the village of Boldre in the Lymington River valley. The family owned farm has been producing quality Free Range poultry for over 30 years & is a qualified New Forest Marque member. The slow growing Bronze turkeys are able to roam the open fields during the day. All poultry is dry plucked and hung for a minimum of 10 days to produce tender meat full of flavour.
Photograph – Paul Tanner's turkeys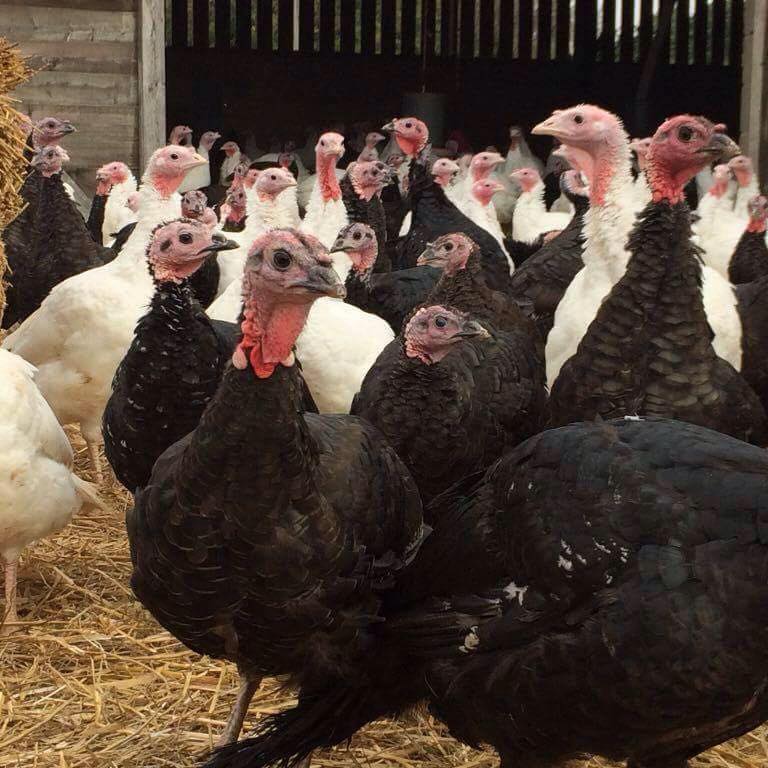 Game
Pheasants & Partridge Beaulieu Estate
Local New Forest Venison from various local sources.